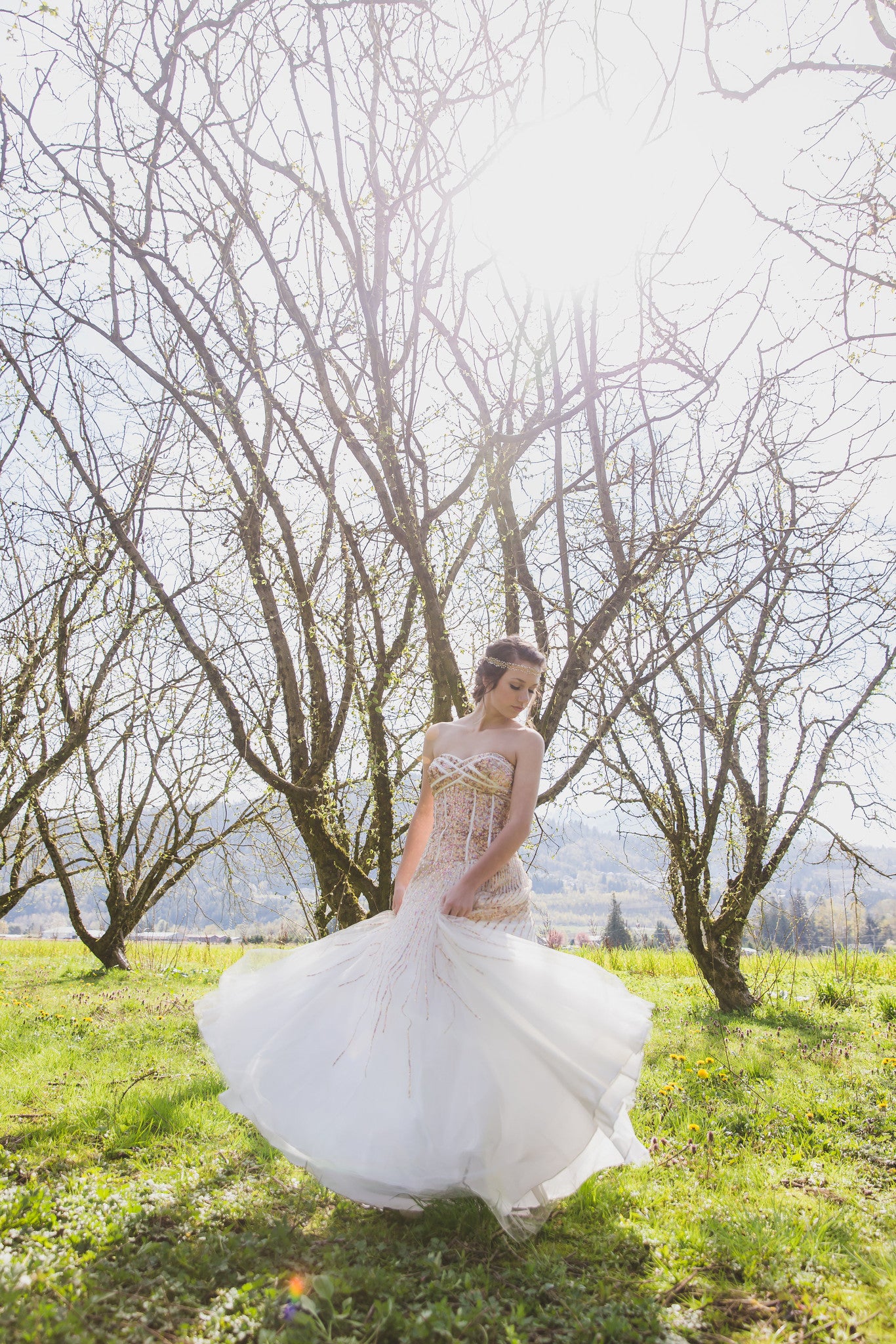 Fall 2016 Bridal Collection & Styled Shoot - Chilliwack, BC
Fall is one of my favorite seasons, and with fall comes beautiful colored leaves, followed the unique beauty of trees with bare branches. Theres something so appealing to me about the simple beauty of the tree when they stand bare with no leaves. Because I love the beauty of nature and because fall is one of my favorite seasons, the Fall 2016 Collection by Xoxo Couture was inspired by the beauty of the season.
This collection was inspired by the beautiful trees during fall, so what better place to shoot the the collection than a hazelnut tree field! Hazelnut trees look so earthy and natural once they have lost all their leaves, so I could not resist using them as the setting to this collections product shoot! The location was in Chilliwack at lovely chilliwack families property. Because of a blight in the hazelnut trees, it was rather challenging to find a location, but this family kind enough to let us use their field to bring this shoot to life! Shooting the Fall 2016 collection was so much fun, especially when you get to shoot at the perfect location with a dream team of wedding vendors on the most perfectly sunny day! For this shoot I was privileged enough to work with Joanne form Umbrella Tree Photography, Stephanie from Feel Beautiful Makeup Artistry and Montana from Montana's Bridal Hair! The hair and makeup team was fun, fast and worked together perfectly to create a natural, bohemian look from our model Emma! They had her looking perfect and had all of us off to our photo shoot location right on time! Joanne, from Umbrella Tree Photography was amazing to work with! She has an upbeat and friendly personality, plus lots of great energy and ideas!  If you are planning a wedding in Chilliwack or the Fraser Valley I highly reccommned working with these ladies!! Thank you so much to all these talenteds ladies in business for coming together and making this photoshoot possible!
          Hair by: Montanas Bridal Hair                 Makeup by: Feel Beautiful Makeup Artistry
    A little sneak peak of behind the scenes with Umbrella tree Photography!! Wondering what the outcome of this shot is!?! Her you go....
In the Fall 2016 Collection you will find vine style headbands and vine style hair combs, that are inspired by the look of branches and vines that have shed their leaves. These pieces are handmade using gold or silver wire and pearl accents. The earthy design of these pieces make them the perfect accessories for a bohemian inspired wedding or event!
Another piece from the Fall 2016 Collection was designed for the non traditional bride. The Bohemian Style Rhinestone & Ribbon Veil has the look of a traditional veil with out the volume of one. This piece has a vintage inspired rhinestone embellishment, a variety of ribbon accents and  a fingertip length tulle veil. The unique design of this pieces allows it to be worn in different ways, making it a great accessory for any bride to be looking for an alternative to a classic veil.


Along with the launch of our first fall collection, Xoxo Couture is hosting an Instagram Giveaway!! From Nov. 10-15th, 2016, all our Instagram followers will have the opportunity to win a set of 3 Vine style hair combs in silver or gold! It is easy to enter… all you have to do is follow us on Instagram and  like the Giveaway post. Dont miss you chance to win these beauties… they are a great accessory for any wedding, special event or for Christmas party season!
Be sure to FOLLOW us on Instagram for you chance to win!!
Thanks again to all the amazing vendors and people from Chilliwack, BC that came together to make this shoot possible…. You are all amazing!

Xoxo, 
Aimee Doell
Designer and creator at Xoxo Couture
SHOP THE FALL 2016 COLLECTION NOW ---------------------------------------------------------------------> SHOP NOW