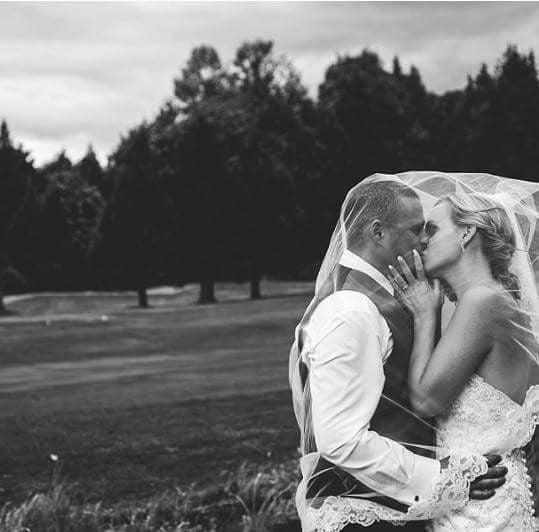 Filled with fun, unique and challenging custom orders, 2016 was full of color and brides who were not afraid to have fun! In 2016 I was lucky enough to create custom pieces for over 50 brides. Xoxo Couture also sold over 180 veils, garters and other stock items online! I am truly grateful for your business, referrals and support though out the past year(s), and look forward to a new year filled with exciting requests, new challenges and classic creations! In this blog post I have highlighted some of my favorite and most challenging weddings of 2016..... 
This is Bride Carrie.... she came to me looking for a specific style cathedral veil, on a budget. Carrie and I worked together online to pick out the perfect trim and color for her custom cathedral veil! Her veil turned out just as she imagined and both her and I were extremely satisfied with the final product!
Thanks Carrie for sharing your wedding day photo <3
Bride Amie was an absolute delight to work with! She came to me with some very cool ideas for her bouquet and veil...
Amie first came to me looking to have her mothers 80's style bridal cap, turned into a modern/ classic veil. This was something new for me , but I love a challenge, so I happily accepted. I spent a few weeks playing around with her mothers veil before presenting her with the final product.... Needless to say, the bridal cap was removed and her mothers veil was turned into something Amie was thrilled to walk down the isle in!

A few months later, Amie came back to me looking to have her mothers and grandmothers brooches made into a bouquet. Again, I was happy to accept the challenge. I have done many brooch bouquets before, but Amie wanted something a little different... she wanted her bouquet to cascade at the front! This was new to me, but with a little time and patience, I managed to create a beautiful cascading brooch bouquet/ family heirloom for Amie!

Thanks so much Amie for sharing your wedding day photos and for trusting me with your families special accessories!
Photos by: Melissa Houser Photography (Chilliwack, BC)
Bride Sara was one of my first weddings of 2016! She came to me looking for some bright, fun and farm themed bouquets, as well as a classic lace detailed veil for her wedding! Her wedding was held on a family farm and her colors were inspired by John Deere! Sara's bouquets included satin/ silk flowers and burlap roses, she wanted to keep things simple and keep her budget under control, so she decided to skip the bling on the bouquets and they worked out perfect for her!
Sara's veil was so much fun to create... it was a cathedral length veil with strategically placed lace. The lace detail was designed to showcase the train on her dress. This project was something I had wanted to do for a long time, so when Sara came to me asking for this style veil I was over the moon excited to make it for her!

Thanks Sara for sharing your wedding day photos and allowing me to create the pieces you needed for your wedding day!!
Photos by: Sam Jiwa Photography (Chilliwack, BC)
This next Bride I have known for quite a long time... She was my mothers student for many years, so naturally I was so excited to work with her on her wedding day accessories! Bride Leann came to me looking for a number of items including hair pieces, a veil and 2 sashes! I had so much fun playing with all her colors, ideas and materials. For Leann I created 2 sashes, one ivory and gold for the ceremony and another mint and coral with loads of sparkle for the reception. She also had a set of 3 gold hair pins and a 2 tier veil made to finish off her wedding day look! Since I was already making her accessories, Leann also asked me to create a unique headband for her flower girl! All the accessories tied together perfectly and she looked stunning on her big day!
Thanks Leann for sharing these photos, and for choosing me to create all the accessories for your wedding!
Photos by: Stanton Photography (Vancouver, BC)
And last but not least we have beautiful Bride Alexis! Alexis came to me looking to save her flowers and stay on budget! Her bouquet was made by trial and error, as we needed to find the perfect shades of purples to match her bridesmaids ombre dresses! After a few mock up bouquets Alexis and I were able to find the perfect shades of purple and the perfect (and quite real) looking succulents for her dream bouquet. This was the first bouquet I had ever made using succulents, and the final product was amazing!
Thanks Alexis for letting me create the perfect bouquet for your wedding day!
Photo by: Adore Studios (White Album Weddings - Chilliwack,BC)
And with that I wrap up 2016 with a full and very grateful heart! I am so thankful for all my 2016 brides and customers who not only support my small business adventure, but also support my young family with every purchase made! 
Your business is greatly appreciated and I wish you all the best in 2017!
Sincerely, 
Mrs. Aimee Doell
** For custom order inquiries please contact Aimee at: 604-562-2895 (call/ text)
Or by email at:  aimee@xoxocouture.ca
Read more